TODAY'S SPECIAL: Genesis 44:1-13,33-34
TO CHEW ON: "'Now then, please let your servant remain here as my lord's slave in place of the boy, and let the boy return with his brothers. How can I go back to my father if the boy is not with me? No! Do not let me see the misery that would come on my father.'" (Genesis 44:33,34)
Joseph's brothers went back to their father with food. They told him about the mean Egyptian prince who said they must bring Benjamin with them next time. But Jacob said he would never let Benjamin go.
Soon the grain was gone and the family was desperate for food again. The brothers begged Jacob to let Benjamin go with them. Finally Benjamin's older brother Judah promised that if the Egyptian prince threatened any harm to Benjamin, he would take his place.
When the brothers got to Egypt, the prince did a strange thing. He invited them to his home and served them a banquet. He even seated them in order of age from oldest to youngest. Then he gave Benjamin five times more food than everyone else. Finally he sent them on their way with the supplies they needed.
No sooner had they left than Joseph's Egyptian servant came after them. "My master's special cup is missing," he said. "If it's found in one of your sacks, that person will come back with me and be a slave to my master."
The cup was found in Benjamin's sack.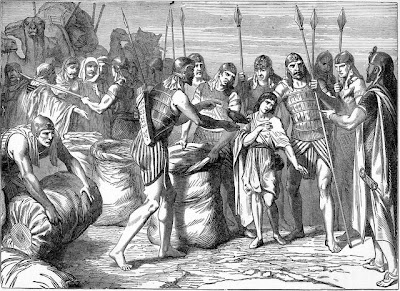 All the brothers went back to Egypt. "Why did you steal my cup?" Joseph asked.
"We don't know how it got there," Judah said. Then he told Joseph how important Benjamin was to his father. " You can't keep him," he said. "It would kill my father. I will take his place."
What do you think—have the brothers changed? Did they pass Joseph's test?