TODAY'S SPECIAL: Luke 19:11-27
TO CHEW ON: "He replied: 'I tell you that to everyone who has, more will be given, but as for the one who has nothing, even what he has will be taken away.'" Luke 19:26
One day Jesus told the story of a king. Before the king went on a trip, he gave ten servants one mina* each. He told them to put the money to work for him.
When the king got back, he asked the servants for a report. Servant One had made ten minas with his one mina. Servant Two had made five. But Servant Three only had the original mina.
This made the king angry. He took the mina away from Servant Three and gave it to Servant One.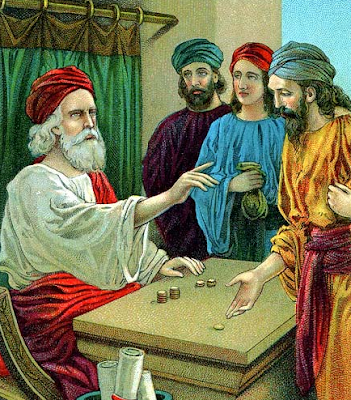 This parable teaches us:
1. Life isn't fair.
2. It pays to be greedy and get all we can.
3. If we don't use the things we've been given, we'll lose even those things.
I think it's number 3 - don't you?
Jesus' stories are not only interesting but they teach us about God and what is important to Him. In this story we learn about how God wants us to use what we have.
The king in the story gave his servants money. You may not have money, but you have other things. Some of them could be health, energy, special abilities, an education, a friendly nature. Can you think of more?