TODAY'S SPECIAL: Exodus 14:15-31

TO CHEW ON: "And when the Israelites saw the mighty hand of the Lord displayed against the Egyptians, the people feared the Lord and put their trust in him and in Moses his servant." Exodus 14:31

Even after God spoke to him, Moses kept crying to God for help. Finally God interrupted Moses' frantic prayer. "Stop praying," God said. "Get busy. Here's my plan."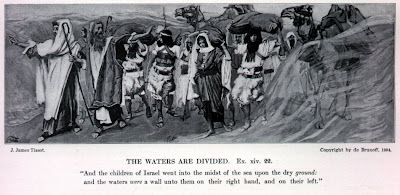 Read the story in Exodus 14:15-31, then cross out the three things, below, that did not happen:
1. Moses stretched out his staff toward the sea.
2. The cloud came between the Israelites and the Egyptian army.
3. The Egyptians bothered the Israelites all night.
4. An east wind turned the sea into dry land.
5. The Israelites waded through the sea in waist-deep water.
6. The Israelites walked across the sea on dry ground.
7. The Egyptian army followed the Israelites into the sea.
8. The Egyptian army became confused.
9. When Moses gave the signal, the sea rushed back into place.
10. Some of the Egyptians got across in canoes.
11. The whole Egyptian army drowned in the sea that day.