TODAY'S SPECIAL: Jonah 1:17 and 2:1-10
TO CHEW ON: " He said:
"In my distress I called to the Lord,
and he answered me.
From deep in the realm of the dead I called for help,
and you listened to my cry.' " Jonah 2:2
When the sailors tossed Jonah overboard I'm sure he expected to drown. But that didn't happen. Instead he was swallowed by a huge fish.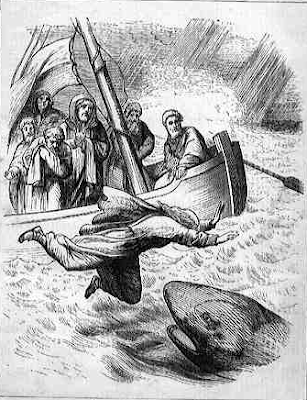 Imagine getting swept into that big mouth and then into the fish's insides. Imagine Jonah telling you about it. Finish each of his statements.

Inside the fish it smelled __________, it felt ________________ , I saw ______________.
The three days Jonah spent inside the fish gave him lots of time to think. Then he prayed. Read his prayer (Jonah 2:1-9) then circle the words that tell how he felt: